A historical look at transit service at American River College
---
1983:
ARC was served by 11 bus routes.
Every route within the entire Regional Transit system was no more than one connection removed from American River College.
ARC had several bus bays, allowing routes to terminate at American River College.
Three routes, the #14, #24 and #90 offered direct service to downtown Sacramento.

1983 Map (pdf) of the entire RT network with routes serving ARC highlighted: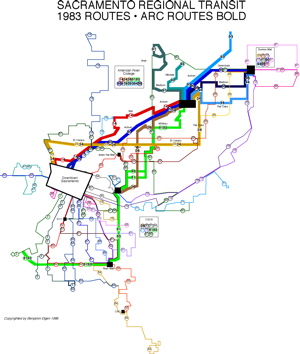 2008:
ARC was served by 4 bus routes.
Much of the Regional Transit system requires several connections to reach American River College, often beginning with a connection to Light Rail at Watt/I-80 Station.
ARC had no bus bays, lines serve stops on surface streets across from the edge of campus.
No direct service to downtown Sacramento is offered.

2008 Map (pdf) with routes serving ARC highlighted: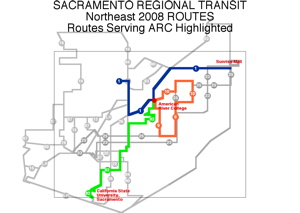 2025:
ARC will have light rail service! Direct service will be offered to Rapid Buses on Watt Avenue with through service to Arcade, North Sacramento, Downtown Sacramento and the south area.
ARC will have Rapid Bus service north on Auburn to Madison Avenue and Sunrise Blvd and south to Walnut Avenue to Marconi Avenue to Fulton Avenue and the Folsom Light Rail Line.

Arden Arcade Map (pdf) showing Rapid Bus lines and new Light Rail extension.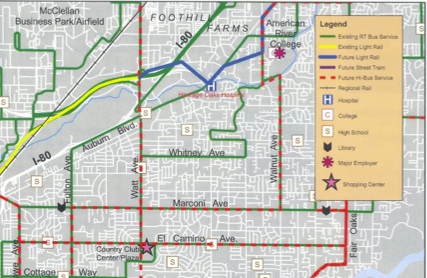 Locally Preferred Scenario (pdf) showing service improvements throughout the Sacramento Region.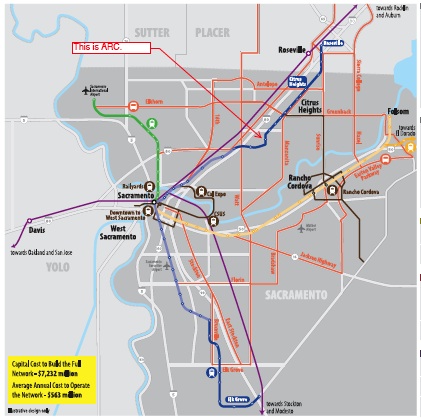 Help restore transit service at American River College and bring Light Rail here:

Visit Regional Transit's Transit Action web-page:




While there, be sure to check out the Regional Transit Master Plan. In the TransitAction Community Conceptual Plans, you can find American River College on Arden Arcade map.

Also, be sure to play the Willingness to Pay Game.

Note: You will find the REVISED SCENARIO C AFTER PUBLIC OUTREACH map as part of chapter 7 of the Draft Transit Action Report.

Read the American River College Academic Senate's Resolution to Support Light Rail Service at ARC.

The pursuit of excellence in the face of adversity is invariably matched by the glory of the result.
---

Back to...Professor Etgen's Index Page.

---
© 1999 by Benjamin Etgen
Last updated October 4, 2010.
Please report broken links to etgenbm@arc.losrios.edu