Home

English Writing 301 Online
Course Code: 12631

Welcome to Summer 2005 English 301 Online. This course meets fully online with the exception of one mandatory face to face orientation at the ARC campus on Sunday, June 5 from 3-5:50 PM in Davies Hall Room D212

I will call roll at the orientation, and if you are late or not present, you will be dropped.

Important! Students who are enrolled in the course and those who wish to add the course should bring a prerequisite verification form (see the counseling office) to the orientation. Eligibility for English 301 is determined by the following:

English 1A with a grade of "C" or better.

Add priority is given to students on the waiting list who attend orientation. I will add others as space allows.

Students interested in taking an online course should be able to browse the internet with confidence, be familiar with sending and receiving email, and have convenient access to a computer that is connected to the internet. Please read the FAQ link to the left.

There are several internet tutorials available online. I have provided links to some at left.
Meyer, Michael. The COMPACT Bedford Introduction to Literature. Sixth Edition -- Note: there is a newer edition, but we are using the sixth
ISBN: 0-312-39881-6
A copy of Kate Chopin's The Awakening to be announced
Recommended: A good handbook, such as
Hacker, Diana. The Bedford Handbook. Sixth Edition
or one you still have from English 300
Internet readings and exercises.
My name is Jeanne Guerin, and I will be your instructor for the course. I have been teaching college composition courses for 6 years. Before I began teaching, I became interested in computer assisted instruction; thus I focused on the area as I completed my Master's degree, teaching web-assisted courses as part of my graduate studies, and serving formal and informal internships in web assisted and online courses, taught by my mentor, Amanda Corcoran, one of American River College's online teaching "pioneers."
In addition to my duties as an instructor at American River College, I teach composition at CSUS and Sierra College. I am also a staff member in the Sierra College Writing Center.
On a personal note, besides my life long love of reading, I enjoy digging in my garden, gourmet cooking (for many years I worked as a chef and caterer), traveling (I visited Spain last summer and spend Christmas in New York City), attending the opera, listening to the blues, watching baseball and basketball--I love the Oakland A's and, of course, the Kings--and spending time hanging out with family and friends.
Here is a photo of me: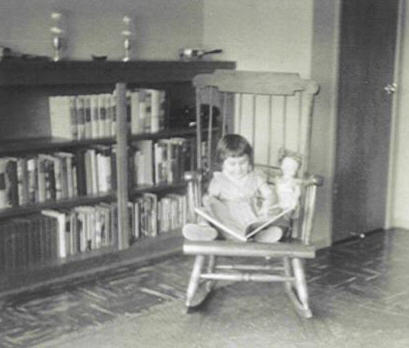 I am looking forward to getting to know all of you here in cyberspace!
Questions and Comments to: arcguerin@pacbell.net
Jeanne Guerin
American River College, English
4700 College Oak Drive
Sacramento, CA 95841